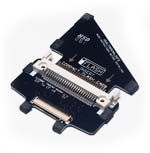 Due to recent surge in demand for the iFlash – the iPod compact flash adaptor. I am happy to announce the mk II version.
So what is different…
Sleek Black finished PCB
Slimmer by 0.7mm
High Quality Connectors (DDK Connectors as used on the original Apple iPod Hard Drives)
works with most CF cards from 512Mb to 256gb (read more..)
SDHC and SDXC cards using a SD-CF Adapter (read more..)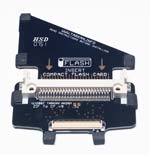 The Benefits of Compact Flash Ipod
Smoother User Interface, no waiting for the hard drive
Reliability – no mechanical hard drive about to fail
Lighter by 27grams, 20% weight saving (based on 30gb version)
Drop proof if the LCD survives, so will the Compact Flash
Extended Battery life up-to 50% increase (real world usage)
Fits all 30gb, 60gb, 80gb, 120gb, 160gb  5g 5.5g 6g 6.5g 7g Video Ipods
Simple and very easy installation (takes less than 5 minutes)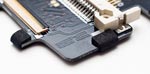 For this new version I have decided to go with a clean matt black finish. The connectors have been upgraded to even higher quality versions.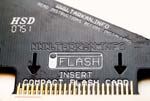 The Zif connector is made and supplied by DDK the people who make the connector on the Toshiba / Apple Hard Drives that are used in the iPods. This insures that the connector is 100% compatible with the ribbon cables (FPC) used by Apple and is the only connector guaranteed to the same specifications as the original hard drive connection.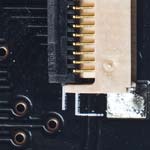 The cheap generic  Taiwan made ZIF to CF adaptors found on the web use very cheap and poor quality Zif connectors which do not work well with the Apple ribbon cable and are likely to damage the delicate connections.
This adaptor is even slimmer than before which makes it lighter and leaves even more space for people who want to carry out further mods – like audio capacitor upgrades or even integrated bluetooth modules!! (the new size may also allow fitment in to the new iPod Classic, to be tested!).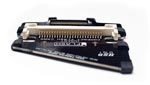 I have left the best news for last, I am pleased to announce a huge price cut – so if you only do one mod to your iPod this should be the one. With prices of Cf cards coming down, this adaptor and a good sized card will be cheaper than replacing the faulty hard drive.
Installation
Watch the installation video below. The biggest challenge you will face is to open the iPod, but with patience and perseverance most people manage it. Most important tip I can offer is to make sure the thin sharp end of the opening tool is pushed deep in to the seam between the front and back case, and with a gentle pulling action away from the ipod run the tool up and down the seam. Make sure the tools is kept inserted as far as possible in to the seam – this is what releases the clips!!! You will hear and feel them release.
Disclaimer
Due to the world of litigation, I need to warn you that everything you read is for information only – if you decide to open your iPod, install the adaptor, or attempt anything because of what you have read here then you do so at your own risk.
I cannot take responsibility to any damage you cause to yourself, to someone else, to your iPod, to your Compact Flash card, and to any other property belonging to you or not from information gained on this site.
What this means is if you manage to blow up your iPod and in the panic fall out of your second floor window – you are on your own!!
If you are not comfortable or have some doubt with the techniques shown on this page or you are just frightend at the prospect of falling out the window please do not attempt them, get someone else to do it for you.