iPOD and SDHC – SDXC cards
Introduction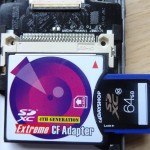 For some time many people have wanted to use my iFlash iPod CF adapter with the new generation of large format SD memory cards. SDHC and SDXC are the new generation of SD cards which are cheaper and have capacities of upto 256Gb and growing.
For many years you could buy SD-CF adapters but they would not work in the iPOD. Most of these convertors required a high working power supply current that the iPod was unable to provide, while others just did not provide the correct True IDE functions.
The Good News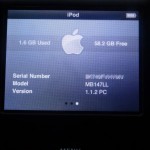 Recently a user let me know he had succeeded in getting a 64Gb SDXC card working in my iFlash with an SD to CF adapter.
So after some investigation and spending a small fortune on various SD – CF adaptors I noted that there is a new generation of pcb design used in these adapters which seems to work well with the iFlash and the iPOD. Even better it works in all the iPod generations supported by my iFlash – 5g, 5.5g, 6g, 6.5g, and 7g.
Installation
Installation is simple, the iFlash is first installed – then install the SD card in to your SD-CF Adapter – finally insert the whole thing in to the iFlash, ready to restore the iPod.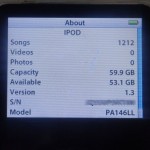 SDHC and SDXC which cards to get
So far all the SDHC and SDXC cards I tested worked ok, so it is looking likely that majority of the SD cards out there will work ok.
In terms of card speed, one user has reported issues playing FLACS with a Class 4 card. I would suggest you want a minimum of a Class 6 card with Class 10 the prefered option.
So far… working and tested in 5g / 6g / 7g iPods (Updated: 20th May 2013)
8Gb SDHC Class 10 Centon
16Gb SDHC Class 10 CnMemory
16Gb micro SD Class 4 Sandisk (possible too slow for FLAC playback)
64Gb SDXC Class 10 7DayShop
64Gb SDXC Class 10 Busbi (one of the cheapest card available)
64Gb SDXC Class 10 Centon
64Gb SDXC Class 10 Lexar
64Gb microSDXC UHS-I Sandisk Ultra
64Gb SDXC Class 10 Sandisk
64Gb SDXC Class 10 Transcend
128Gb SDXC Class10 Kingston
128Gb SDXC Class10/UHS-I 400x Lexar
128Gb SDXC Class10 Patriot Memory LX Series
128Gb SDXC Class 10 Sandisk
128Gb SDXC Class 10 Transcend Ultimate
256Gb SDXC Class10/UHS-I 400x Lexar
256Gb SDXC Class10/UHS-I 600x Lexar
Cards with possible compatibility issues
64GB PNY Polaroid SDXC Class10/UHS-I (6g)
Which SD-CF Adapter
You can purchase the required SD adapter on my store page, as well as a discounted iFlash SD Adapter bundle.
All the SD-CF adapters I checked - the new generation had a different pcb design, which is possible to see through the SD socket. I have a gallery of photo's below to show you. (clicking on the images enlarges them).
Update: I have bought a few more SD-CF Adapters, and so far all the ones that offer Eye-Fi Compatiblity are the newer versions which work ok.
enjoy…….