Rock
I threw various rock tracks at the earphones and it threw them straight back. I was impressed and pleasantly surprised.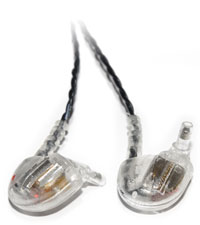 On a track such as Pink Floyd's Sorrow (Pulse CD1) the low thunder like rumbles can be felt at normal volume levels, however as the volume is turned up the earphones just run out of steam for such low bass tones.
Guitars and drums have never sounded so good. Vocals are good a touch too cold due to the lacking bottom end. Major failure points are kick drums and deep bass, while present they just sound like they are coming from the party next door.
The detail these earphones produce will blow you away. You will hear things in the music which will catch you by surprise – who put that there! 
Some of the shortfalls can be overcome by spending some time and perfecting the EQ settings on your player. 
80's
Quick listen to the intro on Paula Abdul / Rush Rush was pretty good and quite impressive, when there is a call to move some air they can just about rise to the challenge. The rest of track was un-listenable without playing with the EQ to add some warmth.
Most 80's tracks just sounded cold, worst cases extremely bright. While detail was present the overall sound felt unbalanced, mid-bass was missing in action.
I did find the experience too clinical for this genre. This genre demands earphones that are much more mellow, laid back bordering on lazy. EQ can balance the sound to perfection but it still lacks the required warmth.
Pop / Indie
I've been listening to Amy Winehouse / Back to Black, I quite like the album and it has had lots of play time on my home system – and as I suspected what the earphones produced whilst being technically perfect lacked soul. You just cannot get the big speaker sound from these earphones.
One genre I expect great things would be Indie, so I settled on Ian Brown / Solarized. This album uses lots of distortion and harmonic overdrive pedals, which the UM2's had no trouble reproducing. Everything put on the CD is delivered to you accurately, you really feel like there is nothing missing.
Classical
Take your time balancing the sound then sit back for one of the best classical experiences you will have.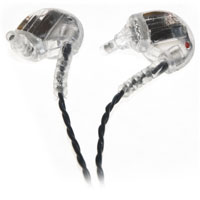 Detail will blow you away, the rich harmonics are all present and accounted for. You can make out valves and keys being pressed in the brass section, hear the violinists skating their bows over the strings.
Totally opposite of the 80's expereience, sound is full bodied and full of life – your own portable orchestra for an audience of one.
Electronic
Like classical once you have adjusted the EQ you are rewarded with an amzing sound experience.
Perception and expectation is an important element in music with 80's synth generated tracks these earphones came across lifeless and too sharp, where as with electronic music you want to hear lifeless and sharp.
After going through several Jean Michel Jarre tracks I can say the sound is clean and sharp, with excellent imaging. The sound stage was perfect with the instruments well placed. I think imperfection is easy to spot in this genre and I did not notice any.
Metal / Punk
Lastly I wanted to see how the UM2's would deal with highly dynamic and complex tracks, come forth : System of a down / Toxicity. The earphones kept a cool head even when the volume was turned up. Sound was excellent, detailed and clean I would say slightly too sharp which was corrected with a little treble adjustment.