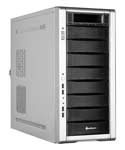 The Sharkoon Economy 9 case is at the extreme budget end in terms of PC cases – for me the biggest factor compared to more expensive cases, is the material used in the fabrication. The metal is thin and you just know it will make the PC very noisy – in effect the case will amplify the fan and drive noise (remember this case is going to house 8 drives!!).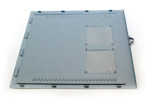 A mod I do, even to the more expensive cases – is to clad all the large panels with rubber. This does two things for the case. Firstly, it reduces the noise coming from the computer – it does this by absorbing sound and damping any vibrations that are transferred to the case from the hard drives. Secondly, I use the rubber to cover up ventilation holes.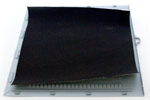 Most cases tend to have ventilation holes on the front, bottom, back and side panels. This just does not work for me. I like my thermal management to consist of a defined airflow. My aim is to get air sucked in from the front of the case and exhausted out of the rear. To achieve this all the ventilation holes around the case – except the front and back have to be covered up. This kind thermal design will only work if you have enough airflow to move the heat generated through the case and out the back.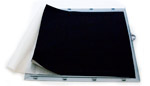 In this situation, the two Icy Docks will be pulling the air in to the case, and the Enermax 120mm PSU fan will be blowing it out. The flow rate will be more than adequate to cool the drives and CPU, remember this file server will spend most of its time moving around files not playing the latest directX 10 games.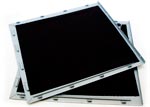 So with screwdriver in hand start taking the case apart. Once all the panels are removed start affixing the rubber sheeting. I used 1.5mm thick Neoprene adhesive backed sheets, if you have the budget I would suggest using 3mm thick or if you don't have the budget, any type of rubber will do fine – adhesive backed makes it so much easier to apply.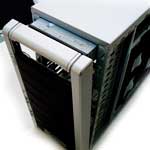 I also removed the top panel which required pulling the front panel away from the case, then removing more screws before pulling it up – you need to be careful if the metal has not been de-burred or rolled, the edges can be dangerous consider wearing some gloves.
The motherboard tray looked like it needed some reinforcement, so I applied some neoprene to most of it.
So anywhere which looks like it can vibrate or make noise – stick some rubber sheeting to it!!!
Case is now ready to accept the remaining hardware…..