Finally the power supply and motherboard was installed. I then installed the Raid card as well as the graphics card.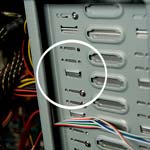 The Icy Dock enclosures caused some problems. The 5.25″ bays are just too small for the enclosures to fit, and as the MB455SPF traverses over 3 5.25″ bays – the bays had to be clear of any obstructions. On the Sharkoon case, the bays have small tabs which create the 5.25″ bays heights, I call them landing tabs. They are formed by the metal being folded in, so with a strong set of pliers I need to fold them back out.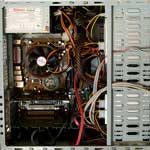 So after some pulling and pushing I managed to get both enclosures into the case. As you can see from the photos it was a very tight fit. I had to mess about with which bays to install the enclosures, so that the rear fans would clear the motherboard.
The downside of trying to get all this in to a small case is that it becomes impossible to make the installation look neat. However, for all the mess – it does fit and it does work!!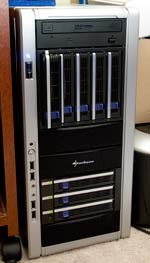 The finished product I think looks amazing and probably the most stylish file server you will ever see!!! (it drips coolness when all the drive access lights start to flash!!)
Conclusion
After building this machine, I noted some issues with this case and its use in this application. Not very major issues and thankfully things which can be fixed easily.
Power led, this blue shining baby is the brightest thing you will ever see – at night it lights up the whole room. So I suggest you either add a resistor into the cable that supplies the LED (470R Should do it), or remove it and replace with a dimmer Red LED.
Power switch and reset button, these two buttons are very poorly placed especially for a headless server (A machine with no keyboard or monitor attached) – accidental press of the power switch or reset is not something you want. So you need to place machine somewhere the switches will not be accidentally pushed.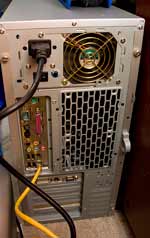 The badly placed reset switch can be accidentally hit while plugging in a USB cable!
I went so far as to just remove the connection for both switches from the motherboard. To make sure the server turns on, I set the BIOS to always switch on when power is applied, removing the need for a power switch.
This build has given me the perfect solution for my storage needs and flexibility to adapt to changes,. In its final configuration – all you have is two connections on the back, network and power. simple!!
In the final part of this series I will look at software options, especially backup and drive partitioning.