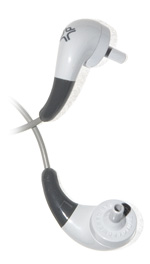 These are Future Sonics latest consumer canal earphones, branded for sale by XtremeMac. As consumer earphones go at approx. £65 (~$150) these are not cheap but are they worth your hard earned cash?
Supplied with the earphones are a good selection of ear fittings of various sizes. Three pairs of the expanding foam inserts (small, medium & large), two pairs of the double flange rubber inserts (small & large). There is a small wax cleaning tools as well a nice pseudo leather pouch to store your earphones while not in use.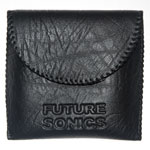 As I recommend for all these types of earphones it is worth experminenting with the various fittings, look for good comfort and sealing between your ear and the drivers. Due to the infinite baffle design of these earphones the bass response is totally dependent on the seal you achieve between your ear and the earphone.
For me personally I find my ear canals are very sensitive to having things shoved in them! So I find the foam inserts give me the best levels of comfort and seal.  The foam also has the added benefit of resistance free insertion and removal (if you follow my instructions), when most of the skin chaffing happens with the rubber inserts. As a side note Future Sonic foams are a lot softer and more pliable compared to other brands such as Ultimate Ears or Shure. I did not feel this made them any worse in creating a seal or holding the earphones in place.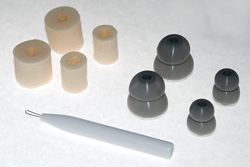 I spent around 3 weeks listening to these earphones, over that time they performed extremely well. These are one of the most comfortable earphones I have tried, the earphones are light so is the cable, but most importantly the length of fittings are longer. This has the benefit of reducing the pressure on the ear canal by spreading the weight of the earphone over a greater surface area. The earphones stay virtually flush with the ears so resting your head while wearing them is possible, good for people who sleep to music.

Curved shape of the earphone allows them to be used with the cable exiting up and around the back of the ears or just straight down. Of course straight down means if the cable gets tugged the chances of the earphones being pulled out are greater.
On the ergonomic front the only downside has got to be the length of the cable at only 105cm (~45 inches) is too short for comfortable use.