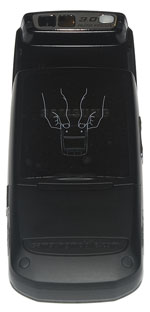 On to the problem areas. To understand the issues I have, you need to understand a few things about this phone. This phone boasts an impressive standby time of 360 hours and they achieve that by having no external indicators. In standby there is NO LCD visible, there is NO flashing led. Literally nothing that at a glance will tell you the phone is on and working or that you have missed any calls. Which in itself is not bad if carried out correctly however Samsung have failed miserably to understand a persons needs from the phone.
Missed call handling is useless. I am not a teenager anymore and I don't have the constant urge to play with my phone – so for me my phone is generally sitting in my coat pocket or on my desk. When I have a missed call I need to be told about it, my Motorola had a missed call / message alert which beeped every few minutes (user adjustable) so why is it missing on the Samsung?? The Motorola also had a red flashing led and external lcd to alert you, so they could have got away without the missed call alert but the Samsung does not have the luxury of these.
Same problem plagues the low battery handling, the Motorola would give off a very loud beep every so often for hours on end. With the Samsung the low battery condition only last about an hour before the phone turns itself off, the warning period needs to be much longer. The phone has a possible runtime over a few days long and no external indicator of battery level, so the user needs to be informed sooner about the low battery level.

Here we arrive at the most laughable issue the low battery warning itself. Generally it is a given when you are low on fuel you drive in a manor which conserves fuel and not drag racing every car from the traffic lights. Samsung designers don't seem to follow this philosophy the D900 turns the LCD as well as the lights on for the Duration of the user set back-light which at standard is 30 seconds.
The silliness does not stop there, the audible alert loudness is for some strange reason controlled by the key volume. Why on earth do the Samsung designers think that the low battery warning should be at the same sound level as my key presses??? Now when I set the key volume (a) the phone is no more than 15inches from my face. (b) I set a level which provides me with enough feedback without letting the whole world know I am using my phone. When the phone is low on battery power it is generally out of sight. The only answer I could come up with for this stupidity is that Taiwan is currently experiencing a trend where people are texting with their phones in the pocket, so they need unrealistically high key volume levels!!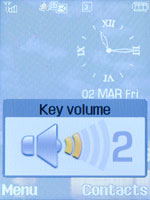 Joking aside these problems have a serious effect on confidence in the phone, I am constantly sliding the phone open to check if it is still on and if I have missed any calls. This phone is elegant and sophisticated clearly aimed squarely at business professionals who by their very nature should be spending their time doing business not worrying if they are contactable.
Here is my list of things to be corrected on the D900:
Low battery warning period to last minimum 4 hours
Audible low battery warning to have separate volume setting (or tied to the ringer volume)
Visual low battery warning can be a brief flash of the back-light to get as much use out of the remaining battery life.
User adjustable audible missed call / message reminder.
With these small changes in the firmware the D900 will be one great phone.