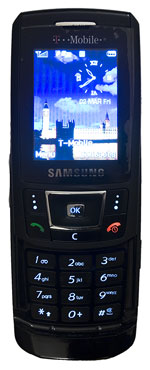 I change my mobile once in a blue moon, if I was to put a figure on it I would say once every 2 to 3 years. So changing phones is a big thing and not an easy decision to make.
After a month of reading reviews, walking in and out of phone shops. I finally decided, meet the Samsung SGH-D900 Ultra Edition (12.9) to give it's full name.
My initial decision for this post was to write an in-depth review with pages and pages of blurb but I decided against that. I use my mobile phone as ……. well as a mobile phone, so I really don't care if its appointment and contacts feature can out do Microsoft Outlook or that you can write a complete 500 page novel using the built-in word processor. This phone has a 3mpx camera with autofocus great but it still produces rubbish pictures just like all the others, honestly would you go on holiday and rely on your mobile phone for the pictures – I thought not!!
For a more exhaustive review with lots of detail visit here.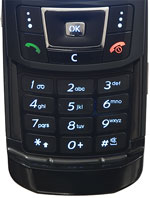 Back to the phone in hand. The D900 is very well built with no obvious creeks or flexing when handled, due to it compact and thin nature (only 12.9mm height) it feels extremely sturdy and dense. A nice change from all them plastic and hollow feeling phones which are so prevalent. The outer casing is mostly a black soft touch plastic with the top and bottom having a nice fingerprint friendly gloss black finish.
The slide mechanism is smooth and easy to operate so the phone is useable with one hand. Interestingly the mechanism is not damped which would have been a nice touch at least you can attach a sound effect to the opening and closing sadly they did not include the Star Trek woosh'ing door sound.
Ergonomically the phone is excellent and the only downer is the lip at the bottom of the keyboard which I find makes it difficult hitting the bottom row of buttons – this probably will not apply to people with small hands.

My previous phone was the Motorola V600, and the Samsung has turned out to be a very good upgrade however there where some features on my Motorola which I could have lived without on the Motorola but you are left wondering why they are not present on the Samsung. Some of these things are so basic it makes you wonder if anyone actually used the prototype outside of the lab. We are only talking about software features so hopefully future firmware releases may fix some of these issues.
Before I have a moan about the problem areas, the phone has had a positive change to the way I use my mobile. The built-in email client is very usable and it has allowed me to ditch the pda on many occasions. One thing missing which would be nice is the ability to stop the client setting the read flag on the downloaded emails at the server, as I do not necessarily download emails to read more to check if there is anything urgent waiting for my attention. My version of the phone came with Opera mini web browser installed and I was impressed with the rendering quality as well as the general browsing speed, I have used it many times to look up travel information on the move.