Electrical Performance
One of the most important aspects of my design was power consumption – I was aiming to produce something which will be permanently connected to the camera, so I had to minimise the number of photos per battery charge lost.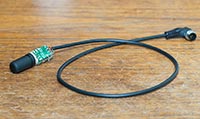 I was very impressed with my controller board, I measured current draw as 50uA (0.05mA) when in sleep and 150uA (0.15mA) when active.
With everything connected (gps module, antenna and controller board) I measured 40mA when the unit was acquiring (cold start) and scanning for satellites. 35mA when tracking (hot start) and providing positional data to the camera and an ultra low 235uA (0.235mA) when the gps unit was in sleep mode.
To put the sleep current draw in to perspective. 0.235mA sleep current is lower than the self discharge rate of the Li-Ion battery – leaving the gps unit attached should not effect how long the battery lasts on the camera.
GPS Performance
With the gps unit attached to my camera strap and pointing up towards the sky. The first time activation of the gps unit needed about two minutes to give me a positional fix on the camera.
After the initial acquisition pressing the shutter button gave me a positional fix in less then 1 seconds. If I left the gps in sleep mode for around 30 minutes then pressing the shutter button the positional fix would take around 2 seconds.