Compared To…
I did some back to back testing with the Shure SE210, and Ultimate Ears own Metro.Fi. The SE210 and Super.Fi 4 are similar in price, but I included the Metro.Fi which is nearly half the price as I suspect it uses similar technology as the 4 & 4vi.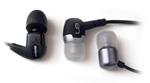 UE Metro.Fi are…
Similar levels of detail. First listen they are not as bright as the 4vi, overall sound is much smoother. The High's are cleaner in that they do not suffer from being harsh or sharp. The sound has better balance with no range dominating.
I would say they are musically better as they just come across warmer and cleaner.
Shure SE210 are….
Low end is not as smooth as on the 4vi, also they do not have the same warmth in the crucial mid bass section. The Mid and Highs are much better, and the sound has much better balance from when you climb out of the mid bass area.
Control is better over the whole frequency range, and I would say more detail is extracted by these than the 4vi. The highs do not suffer from any harshness, or distracting artifacts.
Overall, the SE210 have a cleaner and more detailed sound, with better mid and highs – the 4vi have a warmer and smoother bass end with a better roll off.