Welcome to the second part of my how to build a file server series. In the first part (which can be found here) we looked at hardware and choices to be made, in this part we go over how to put it all together.
This is not going to be a general how to about installing motherboards in to cases, I will be focusing on installing the equipment that I decided on in part one.
Modifications & Hacks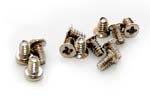 Like all good hardware it never is exactly how you want it, so we have to start with the necessary mods.
The hard drives in my file server will be housed inside Icy Dock's multi-bay Sata enclosures, MB453SPF and MB455SPF. Installing the drives on to the frames is very easy, all you need is a Philips screwdriver.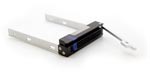 As you will see the rear of the enclosure has a rather large 80mm fan which pulls cool air over the installed hard drives – Great, but hang-on I see a problem. As the server will be sitting in my study with human inhabitants – dust is going to be created, which will be sucked in to my new file server and cause all sorts of problems in a short space of time.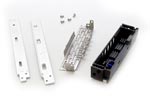 Solution is quite simple filter the air going in to the server casing, thankfully the front grills on the Sharkoon case have nice foam inserts which will stop most of the dust. However the Icy Dock frames have huge cooling holes in the front panel which will make the perfect hoover for low flying dust.
My solution is to install filters in to the cooling holes at the front of the Icy Docks enclosures, the holes are on the front of the drive trays. The filters in my case will be cut pieces of vacuum cleaner air filters I had spare, you could also use cooker hood filters or even just plain old open cell foam – anything that will pass air through a mesh structure.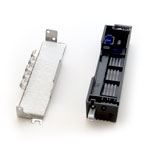 dismantle the hard drive frames, total 4 Philips screws – detach the front panel from the metal arms.
clip out the tin grill, you need to push in the grounding fingers at the bottom of the frame.  If you have pushed the fingers in too much, just gently pull them back out.
now cut your filter material to the same size and shape as the tin grill or use the front panel as a template.

place the filter on the tin grill and carefully clip the grill back on the front panel. making sure that the ground fingers are located in the cut-outs at the bottom of the panel.
re-assemble the tray by placing the metal arms back on the front panel.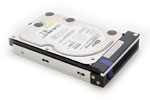 Tip: I found taking the frames apart easier with a hard drive installed. You can click on the pictures for larger versions.
In the next page we will go over the mods needed to get the Sharkoon case ready to install our hardware.